This Page Uses content from Wikipedia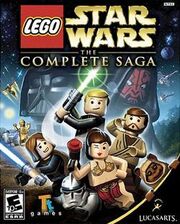 ''Lego Star Wars: The Complete Saga is a video game based on the Star Wars-themed toy line by The Lego Group. It is a combination of the game Lego Star Wars the Video Game and its sequel Lego Star Wars II: The Original Trilogy , which includes all episodes, one through six. The game was announced by LucasArts on May 25, 2007 at Celebration IV and was released for the Wii and Ds on November 6, 2007 in North America. The compilation title was released for the PC on October 13, 2009 in the US. Its sequel, Lego Star Wars III: The Clone Wars was released on March, 2011. The Mac OS X version of the game was released on November 12, 2010 by Feral Interactive and the IOS version of the game was released on December 12, 2013. It includes one new level wich was cut from the first game.
Ad blocker interference detected!
Wikia is a free-to-use site that makes money from advertising. We have a modified experience for viewers using ad blockers

Wikia is not accessible if you've made further modifications. Remove the custom ad blocker rule(s) and the page will load as expected.