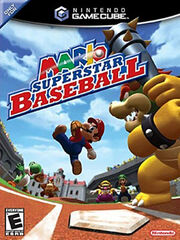 Mario Superstar Baseball is a sports video game. You are more involved in this than any other sports game because you get to pick who you want to play as and your teammates, and also your opponent and their teammates. However, only the main characters (also Diddy Kong and Bowser Jr.) can be team captains. This is a game where you can take all of your baseball skills and put them to the test.
Characters
Edit
Team Captains
Edit
Luigi Princess Peach
Princess Daisy
Yoshi
Birdo
Donkey Kong
Bowser Jr.
Diddy Kong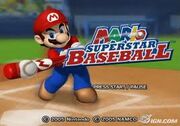 Teammates
Edit
Baby Mario
King Boo
Ghost Boo
Toad
Koopa Troopa
Paratroopa
Goomba
Paragoomba
etc.
Ad blocker interference detected!
Wikia is a free-to-use site that makes money from advertising. We have a modified experience for viewers using ad blockers

Wikia is not accessible if you've made further modifications. Remove the custom ad blocker rule(s) and the page will load as expected.