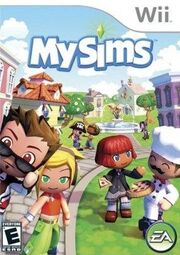 MySims is a video game for Wii. You come to a town that is a bit rundown. As the player, your job is to bring the town back to life. You can customize your town anyway you want. You can decide who lives there and who doesn't. Give your town a wacky name. Build it in whatever suits your tastes.
Interests
Edit
Fun
Geeky
Cute
Studious
Tasty
Spooky
Ad blocker interference detected!
Wikia is a free-to-use site that makes money from advertising. We have a modified experience for viewers using ad blockers

Wikia is not accessible if you've made further modifications. Remove the custom ad blocker rule(s) and the page will load as expected.