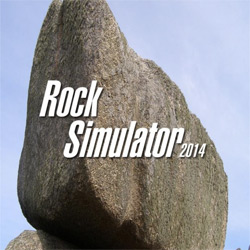 Rock Simulator 2014 is a third-person simulation game in which the player assumes the role of a rock in an open-world environment. It is meant to be a parody of the popular trade simulation genre in video games.
The game is being developed by Strange Panthers, an independent game studio located in Tampa, Florida. Similar to Goat Simulator and Mountain, a mountain simulator, the idea for Rock Simulator initially began as a parody of the trade simulation genre in a LP-style review video and a 420 MLG montage uploaded to YouTube on June 21st, 2014 (shown below).
Ad blocker interference detected!
Wikia is a free-to-use site that makes money from advertising. We have a modified experience for viewers using ad blockers

Wikia is not accessible if you've made further modifications. Remove the custom ad blocker rule(s) and the page will load as expected.